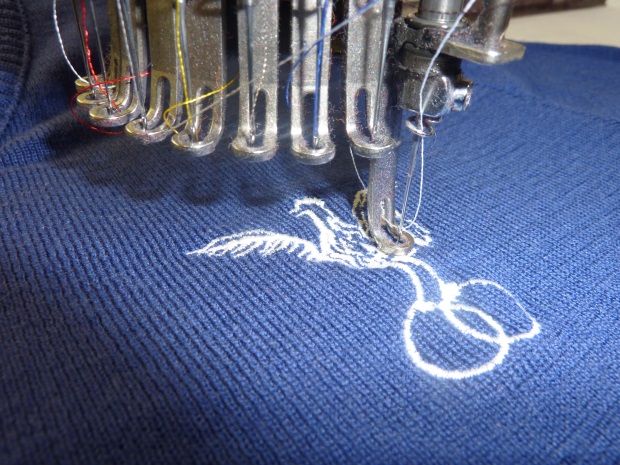 Our french know-how
Few weeks ago we told you about our partnership with Sports d'Epoque and fruit of this meeting, a sweater bearing the embroidered rooster with wings of the French Team 1920.
We take advantage of the launch of this sweater to make you go behind the scenes of our factory and show you how our sweaters Pic de Nore are made.

Women and men behind the machine
The current teams have been in place for over 20 years which perpetuates the skills in knitting and confection refined over 40 years.
Those skills are rarer and rarer. The manufacture works with authorities in textile to strengthen and develop some new ones as the world of fashion develops.
A mastery of key gesture
The quality of a jumper is the result of a succession of key gesture whose mastery takes lots of time. A real expertise takes many years to acquire.
CREATION OF THE PATTERN
This determines the shape and proportions
KNITTING
The thread is knitted, the panels of mesh are machine-made following a computer programming.
CUT
Handmade or mechanical depending on the material and mesh used
ADDING THE COLLAR
This determines the "look" of the jumper (V neck, crew neck, turtle neck…)
ASSEMBLING
All parts are joined up together using the chain point (the models being knitted in shape already, this gives a prettier finish)
IRONING OF THE FINISHED ARTICLE
Steaming of the jumper that will hold his final shape, seams are flattened and measures are stabilised
And the most important AUTHENTICITY
Impassionate by their craft, 29 persons, of an average age of 44, work in the manufacture.
Those men and women are attentive to produce quality jumper.
Some have been here for 20 years.