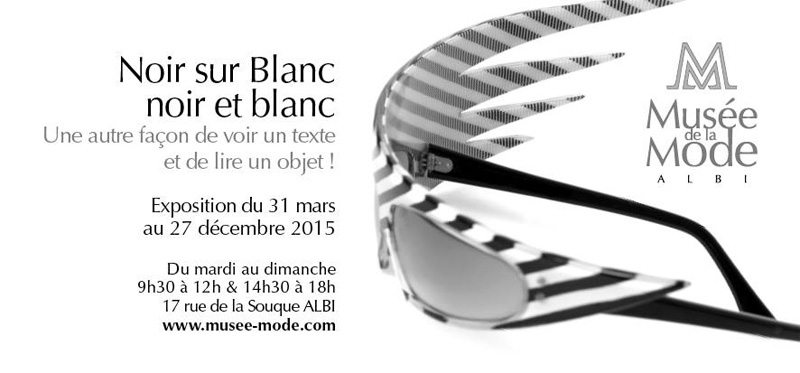 Pic de Nore takes you to Albi, the Fashion Museum
We all keep in mind some memories reading: Stendhal's description of the toilet of Madame de Renal, or inventory vests Charles, articulated by Eugenie Grandet in Balzac.
Clothing and accessories are indeed so closely related to human life that poets and writers sooner or later by talking. The collections of the Fashion Museum in Albi allow, for their wealth, to establish a direct and exact correspondence between text and object.
The exhibition Black White, Black and White
The creator of the Museum of Fashion, Dominique Miraille, found what still surprise visitors with a new exhibition to discover from March 31.
The theme "Black on White – Black & White" was declined an original way to the image of this unusual place in the heart of Albi.
"The exhibition is based on two orientations"
The first establishes a correspondence between excerpts of literary works of the nineteenth and twentieth centuries and the object in question.
In alphabetical order from A to Z for Apollinaire Zola, 26 texts echo many clothes or accessories described by the author. "Here, the clothes are neither black nor white, but their description is" black and white ".
This inventory is also a great opportunity to discover French literature in a different light, especially authors sometimes ignored or forgotten. Nevertheless, we will find favorites such as Flaubert and Maupassant …
"This course is another way of looking at a text and read a garment." The theme of the exhibition was also taken literally with a presentation of black costumes and accessories and / or white. In all, one hundred pieces will be exhibited in the museum galleries.
Jean-Pierre Marielle and Marie-Christine Barrault lend their voices
Musée de la Mode 
17 rue de la Souque
81000 ALBI