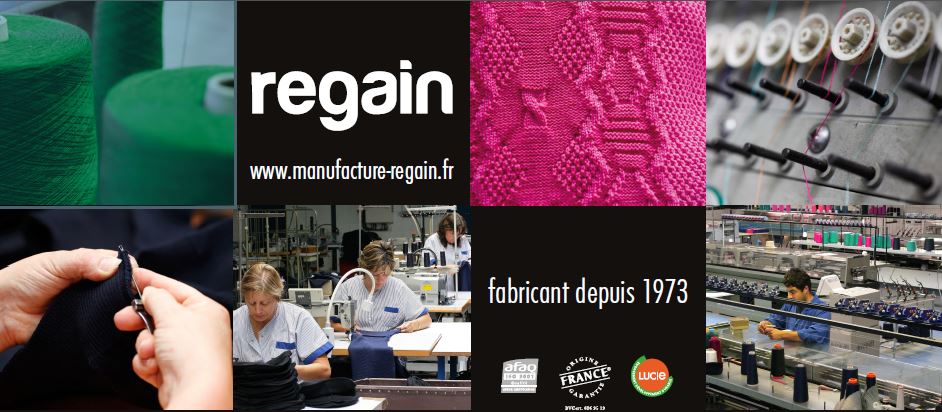 French knitwear manufacturer for over 40 years, Regain is rooted in the traditions and skills of textile manufacture.
Regain's Fashion collections benefit from our Work DNA and our know-how as makers of professional clothing which has particularly demanding quality standards.
Therefore, Regain has just created a new line of top of the range men's' pullovers, Work Choc, which will be available at the MIF event. This line should appeal to men who like colour, impeccable cut and beautiful lasting quality, blended with 100% French manufacture and a recognisable style. For men who love exclusivity, each of our knitwears will be numbered.
Regain has just being accredited with the "Origine France Garantie" label for its Automn-Winter 2013 and Spring-Summer 2014 Fashion lines.
This label, awarded by the Pro France association and the auditors Bureau Veritas Certification, has the objective of guaranteeing the origin and the manufacturing site of its products. Therefore is gives clear information about the origin of our sweaters, taking into consideration all the stages of production: concept, design, knitting, cutting,  assembly and the finish.
Since always, Regain defends its high values through its new collections:
-          Courage: the choice to resist offshoring in our industry and thus preserve the knitting and manufacturing workshops based in Castres.
-        Authenticity: Regain wishes to satisfy men with sweaters that have a readily identifiable style, impeccable cut, performance, comfort, lasting quality and 100% French made. The sweaters are designed with rigorously selected materials. They are manufactured by people who are passionate about their work and who put their combined expertise to work for these collections.
-          Respect and Responsibility: Regain was the first French textile company to have obtained the LUCIE label back in November 2011.  This label reinforces its commitment to sustainable social, economical and environmental development according to the ISO 26000 standard.